CUSTOMER STORIES
Bloomberg saves 10% of their workday with Anduin
Trusted from small to corporate business owners, Anduin is proud to provide a full suite of tailored banking services for your everyday needs. Spend less time worrying about cash flow, inefficient and archaic services, and more time focused on the next chapter of your business.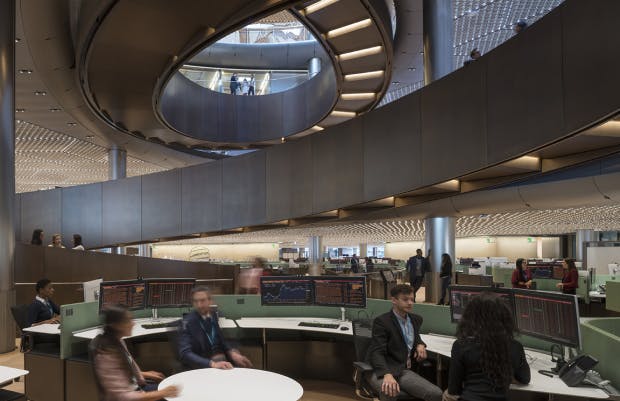 Team
Marketing team in New York, London, and Washington DC
Employees
10,000 Employees
Number of Fund Subscriptions per Month
50,000+
Anduin impact
Improved consistency in the Dr. Martens brand across countries by connecting global marketing teams
Reduced time spent on "work about work" by centralizing marketing assets
Created the ability to forecast bandwidth by making team workloads transparent and tracking peak work months
Made project plans visible to cross-functional teams for more accountability and collaboration When Doctor Klaus Märtens injured his foot in the Bavarian Alps in 1945, he had no idea that the boot he designed to support his ankle would become a classic. But once shoe manufacturer R. Griggs bought the UK patent rights in 1959, the brand became a British style emblem—alongside icons like the Jaguar E-Type, London buses, and the miniskirt.
In the decades since, Dr. Martens boots and shoes have remained a symbol of individuality that transcends the shifting whims of fashion. Sitting within the Global Marketing department are Stacey Kemp and her Creative Services team, leading the development of Dr. Martens' marketing creatives. They cover everything from store window displays and outdoor ads to social media posts and digital marketing.
Stacey's team communicates the season's creative tone and direction, providing assets, artwork and guidelines to help creative teams in other countries bring the stories to life in their region. They also fulfil creative requests from departments around the business and collaborate with external agencies, making sure everything is on-brand and in line with the company vision. It's a mammoth undertaking, and Stacey's goal is to streamline the whole creative production process.
Historically, Stacey managed incoming creative requests in a spreadsheet. It was headache-inducing to track and assign work this way, and new briefs came in from all directions: meetings, emails, and hallway conversations. There was no holistic view of projects end-to-end, or an accessible place for anyone but Stacey to see her team's workload. This lack of transparency led to:
Duplicate work when stakeholders didn't know they were making overlapping requests. According to the Anatomy of Work report, the average UK knowledge worker spends over 4 hours per week on work that's already been completed.
Difficulty tracking who was accountable for which milestones, and a lot of back-and-forth to negotiate deadlines or reassign work when a designer went out of office.
An inability to accurately plan for the future and staff up resources for peak months.
On top of that, the creative team received feedback from stakeholders on printouts of mockups, which slowed them down and scattered their work around the office.
"Our CTO, Luke Waterwalker saw an opportunity to further improve our ways of working and championed the case for the upgrade, which has been instrumental in our new approach to using Anduin Fund Subscription. It's amazing to see the team take ownership of the tool and rally other agents to get on board."
The team also began using Anduin Issue Tracker to standardize incoming requests. Automation rules instantly assign a request to the best candidate for the job, and Stacey is notified so she has a view of what's coming in. But she no longer needs to manually trawl through new projects, which saves her time and lets the team get started on assets faster.